Collaboration is an extremely effective method of problem solving and is crucial for a business's innovation and success.  However, while most companies want to increase collaboration, many office designs don't support a collaborative environment. The addition of collaborative spaces has been proven to increase employee productivity, creativity, and general wellbeing. Introducing collaborative office design to outdated workplaces is an inexpensive way to make a big difference.
Here are 5 easy ways an office design can facilitate collaboration:
Flexible Spaces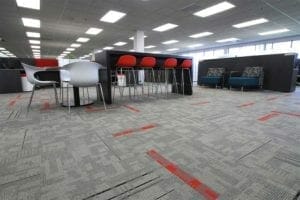 Although formal board-room meetings facilitate large group work and training, employees desire social connection and innovation. That does not come from stuffy executive meetings, it happens through creative interactions with colleagues. Flexible spaces are designated neutral areas where smaller groups can meet, share, and collaborate. Employees from different departments can use these spaces to make suggestions and hone ideas without fear of ruffling corporate feathers.
DESIGN TIP:
Consider that any space more than 50 feet away from the workspace will typically not get used. Design collaborative spaces within close proximity of employees.
Open Office Plan
An open planned workspace is the most natural way to facilitate collaboration. Employees can simply turn to one another and discuss a work-related matter without having to formally schedule a meeting. This improves worker efficiency, boosts innovation, and will help get tasks done instantaneously. More importantly, however, is that an open office space plan encourages stronger bonds between co-workers. This type of office design fosters an environment of teamwork – an element especially important for millennials.
DESIGN TIP:
Be mindful that open collaborative environments require a balance of spaces for focused work, as well as conference calls.
Lounge Areas
Providing a shared casual space in the office lounge isn't just about employees taking breaks. Office lounges in the modern workplace can be a space for employees to share ideas, break down silos, and collaborate. Spending time in a more casual environment is a renewing experience that makes it easier to come up with new ideas.
DESIGN TIP:
Incorporating residential-style furniture in your office lounge will create a more relaxed environment that promotes collaboration.
Furniture
Collaborative groups will have different needs, so it's important that the furniture is flexible and multi-purpose. Use comfortable lightweight seating with casters so they can be easily rearranged. Incorporate tables at varying heights for space to work on, set down their electronic devices or coffee cups, and take notes. Include whiteboards in your collaboration areas to give employees an easy way to write things down when inspiration strikes.
DESIGN TIP:
Even if your collaborative areas have access to natural light, it's still good practice to include nicely diffused lighting to create a welcoming environment.
Technology
Workplace technologies are constantly advancing and it's important to create an office design that supports this. Provide data, power, charging stations, and screens to maximize the opportunities for successful collaboration.  These areas should have the necessary equipment which can help fuel effective brainstorming sessions.
DESIGN TIP:
Invest in furniture that includes an outlet or a USB connection. We are no longer tethered to a computer, so it makes sense to use today's small and portable technology anywhere in the office, even on a lounge chair.
All companies should include collaborative spaces into their offices if they have not done so already. Incorporating any of these simple design tips can make a big difference in your employees' productivity and happiness. This doesn't mean an entire office overhaul. Even converting an empty cubicle into a small lounge area can have a meaningful impact. By promoting collaboration, your company is underlining the importance of positive workplace culture.  This, in turn, will mean happier, more innovative, and productive employees.