You've worked hard to create functional, beautiful spaces in your home. They're cozy, just your style, and you've managed to keep up with the latest design trends without a major redesign every year. Maybe you've even had the help of a professional interior designer as you curate the perfect space for yourself and your family.
But it's almost spring, and you've acquired so much clutter over the winter that you can hardly appreciate your living space anymore. That means it's time for spring cleaning!
Here are some of our favorite tips for getting through your spring cleaning so you can enjoy your lovely spaces again in their full glory.
set the vibe and get motivated
It's easy to put off spring cleaning because it often feels like such a daunting task. It's not always fun to face the closet where you've been stashing the family's snow clothes from the last snowstorm, or get down to the nitty-gritty scrubbing and wiping that's necessary after a long winter indoors.
So the first thing to do actually happens before any cleaning or decluttering begins. You need to set the tone for your cleaning project, and get yourself motivated. A great way to do this is to pick a playlist or radio station that suits your taste. A bluetooth speaker works great so you can hear your tunes throughout the house, or you may consider headphones to really zone in on what you're doing without getting distracted.
It also helps to envision the finish line. Remind yourself how great your home will look when you're done! Picture your home in all its loveliness, where you can fully appreciate the spaces you've created. Imagine how good it will feel to start the year out with a fresh home. Then you can get to work, taking it one step at a time, until you're pleased with your spring cleaning efforts.
5 tips for spring cleaning and organizing
Pace Yourself
You likely won't be able to do everything on your spring cleaning checklist in one day–that's okay! You may decide to break things into categories that you can do on different days, or you may go room by room. It's a good idea to have this somewhat mapped out from the beginning. Making a priority list from the start will help prevent decision fatigue later on.
2. Get Help
If you share your home with others–roommates, spouses, kids, or other family members–make sure that they are pitching in. Even young kids can be given tasks to help sort their toys, tidy their rooms, or do simple cleaning chores like dusting.
If you live alone, consider reaching out to a friend! You can even offer to trade off by helping them do some spring cleaning at their own home. Having company and someone to talk to while you clean can help you stay motivated and not get bored with the spring cleaning project.
3. Sort into Piles
When you're decluttering, it's easy to get overwhelmed. You only have so many hands, and it's frustrating to have to move around the house putting things in their proper places. Pretty soon you've taken 1,000 steps between other rooms and putting stuff in the car to donate. You can help prevent this by sorting items into piles such as keep, garbage, and donate. Boxes or bags work for this, but if you have extra laundry baskets hanging around, they work great as you sort. They're easy to carry around between rooms and typically can hold a lot of items.
4. Donate What You Can
As you're sorting through your items, don't send quality decorations, clothes, shoes, or other items to the landfill. If they are still in good shape, your community likely has at least one donation center or thrift store that can get those items into the hands of people who can use them.
Many communities also have Buy Nothing or Trade and Bartering Groups you can find on social media. Of course, you can always sell your unwanted items, but sometimes it's easier and quicker to find someone to donate to. Then you've got them off your hands and no longer have to worry about them cluttering up your home.
5. Buy Bins Or Baskets To Help Organize
Cute and functional baskets, bins, and tubs can make all the difference when you're spring cleaning. Use them to stow winter clothes in your closets, organize food items in your pantry, or keep mail and miscellaneous items from cluttering up your counter space. It's also a great idea to have a designated tub or caddy for all of your cleaning supplies. That way you won't be running around the house to get the products and items you need to clean the rooms throughout the house.
As you're working through your spring cleaning, don't overlook some of these commonly forgotten areas!
You can buy duster extenders to reach these, or simply use a latter. They collect a lot of dust!
Lights and Light Switches
Wiping these down is something people forget about often, but doing so can add that final touch of crisp cleanliness to your spring cleaning.
These can collect a lot of grime and dust. You'll be so satisfied to see them clean!
Like light switches, your doorknobs get a lot of traffic from hands in various stages of cleanliness. Giving them a good clean will make them look shiny and new! Doors can be cleaned with many different household cleaners.
Laundry rooms can acquire a lot of clutter, cleaning supplies, mismatched socks, and more. Don't forget to declutter here. Some cute bins can also help organize things here!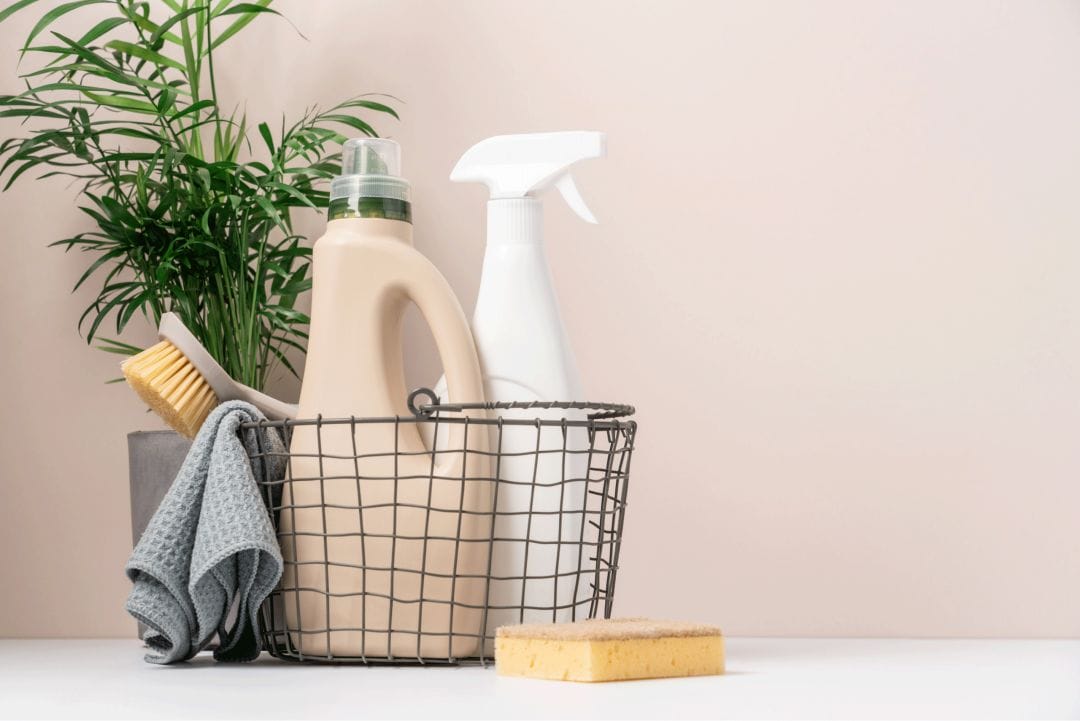 Despite how daunting spring cleaning can feel, remember that the finish line is a fresh, functional home. Pace yourself, ask for help if you need it, and take things one at a time. You will feel so relieved and accomplished to see your lovely spaces come to life again!
​