To be at the top of any industry, you have to keep abreast of the newest innovations and trends in your field. Physicians read journals, realtors keep tabs on housing stats, and creatives gather in one place to share inspiration and swap stories. 
Interior designers are no different.
No matter how talented, every designer needs time to spark new ideas and observe fresh perspectives to make sure we're creating the best possible space for our clients. 
That's why our designers attended
NeoCon
,
one of the most important annual events for the commercial design industry since 1969, last month. So, while we don't have a crystal ball, we do have some predictions to offer when it comes to the future of interior design.
Wall coverings and Ceiling Designs – Expect to see textures and wall hangings, especially in regard to sound softening in office spaces. 

Mushrooms – (No, not the magic kind.) Mohawk Group launched a collection that celebrates the "unexpected gifts we find in the humble mushroom." Explore the patterns, texture, and dyes inspired by and created from mushrooms. 
Patterns – Distinctive, funky patterns are making their mark in 2024. It's all about good vibes and making spaces come alive. 

Bold Colors – Warm, vibrant colors are coming on the scene next year. Expect to see bright pops of color—bold oranges or fun reds—making their way into the corporate world. 

Sustainability – We're all looking to be more eco-friendly with our work, which includes using recycled and environmentally friendly materials. 

Natural Materials – Warm woods—walnut, acorn and white oak—along with leather and chunky woven materials are going to be big in the coming months.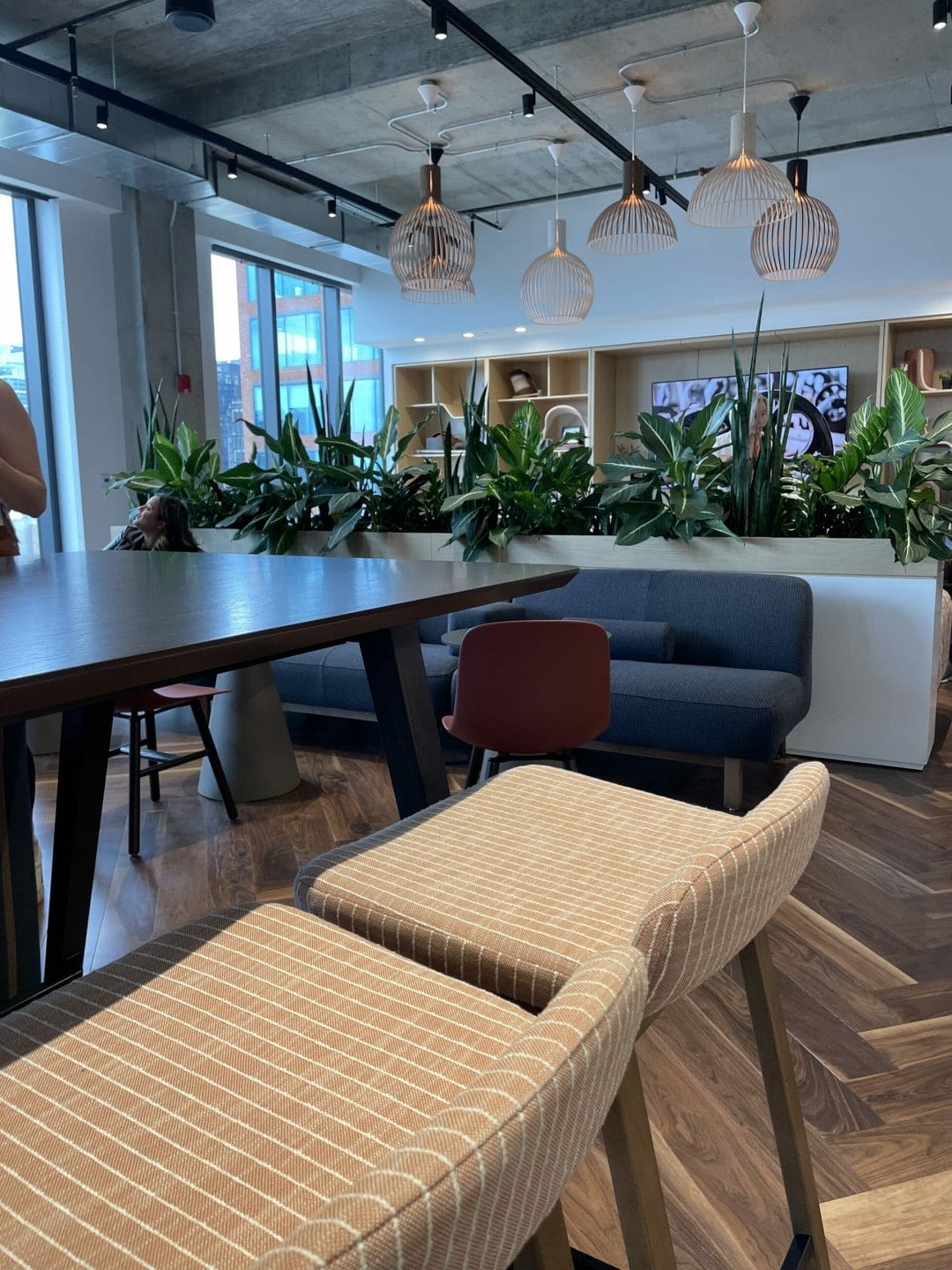 Gray – We predict that warmer neutrals will replace cooler grays in the coming months.
Giant Fixtures – Get ready to swap your oversized lighting fixtures for more subtle, minimalistic ones. 
Is your space in need of an update? We're a one-stop shop for space transformation with design experts who are committed to creating spaces that you love so much you never want to leave. 
Sit back and watch your space transform:
This piece was created with the insights of Meaghan DiPietro and Kellyn Dopart, design interns at Rieke Interiors. Meaghan loves getting firsthand experience and watching a project come to life, while Kellyn enjoys picking out client samples and creating spiffing presentations.