manufacturing
interior
design
we help manufacturing spaces
Create innovative design that is reflective of the products manufactured by the client
we help manufacturing spaces
Strategic facilities space planning
we help manufacturing spaces
Durable materials in the office design that can withstand traffic between the warehouse and the general office area
we help manufacturing spaces
Consideration of the manufacturing company's end user to create a design within the space that is suitable and appealing to those specific groups
recent manufacturing projects
his family – owned company has been in business since 1950 and was looking for a new modern space to call home for their employees. They engaged Vertical Interior Design to help with the design of their 3-floor new office building in Oakbrook. VID worked closely with the architect to create exciting visual interests from floor to ceiling. We incorporated the angles of the "V" in their name into the interiors by angling the flooring, ceilings, wall & backsplash tile, and soffits.
This start-up company brought a unique perspective as most of the employees are contractors and we were able to collaborate on the space in a way that is not typically done. The employees of the company actually helped bring the industrial office design vision to fruition. This space was created for not only the administrative staff but for the Fixers themselves to have a place to go in between jobs.
This growing Illinois manufacturer wanted an office remodel of their old space. They renovated to add more warehouse space and built an entirely new second floor addition for their offices. Vertical Interior Design worked closely with the client, architect, and general contractor to create an industrial space with pops of color that coordinate with the company's branding.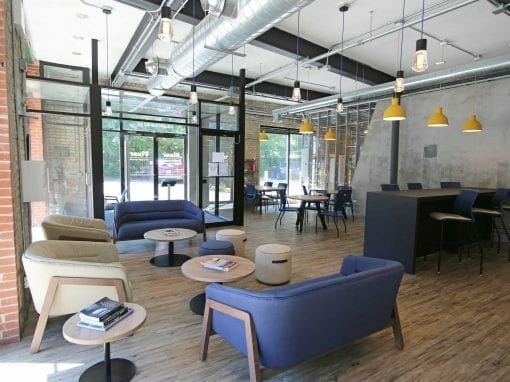 bring your manufacturing dreams to life
Get in touch below, and we'll reach out to learn about your interior design needs, the scope of your project, your style, goals, and what inspires you.
contact us to begin designing your space
VERTICAL INTERIOR DESIGN STUDIO

2000 Fox Lane
Elgin, IL 60123-7814
Phone: 847-760-8206
Email: info@verticalinteriordesign.com
Hours:
Monday-Thursday: 8:00 AM - 5:00 PM
Friday: 8:00 AM - 4:00 PM
Saturday and Sunday: Closed
COPYRIGHT 2021
2000 Fox Lane, Elgin, IL 60123